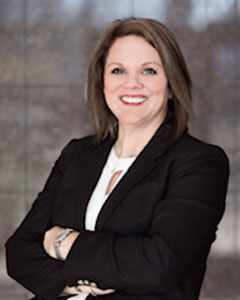 Teree was born and raised in Minnesota.  After high school, Teree attended the University of Minnesota, graduating with a degree in History.  Before pursuing her dream of law school, Teree worked as a loan officer, ran a business, and as an accountant.  Graduating from USD Law School in 2014 with honors, Teree was selected as the Third Judicial Law Clerk and worked closely with Judges and attorneys throughout the Circuit, gaining valuable experience and seeing the many varied areas of litigation and the law. In 2015, Teree was hired as a Deputy State's Attorney for Brookings County, promoted to Chief Deputy State's Attorney, and then appointed by the Brookings County Commission as State's Attorney in February of 2018.
Teree has always had a passion and desire to give back to the community and is currently involved with ALTRUSA, Lions Club, Optimist Club, Brookings Empowerment Project, Rotary, and is a member of St. Thomas Moore Parish.
Teree and her husband Dan have been married for 22 years and have two children. Teree enjoys spending time with her family traveling, attending sporting events, and vacationing with friends and family at the lake.
Teree is working to build her practice in the areas of commercial litigation, business litigation, criminal law, insurance litigation and civil litigation.